Taking your dog to a local off-leash dog park is certainly fun for your dog, but is it fun for you too? Below are some places that you may want to visit that allow you to bring your furry family member. Make the most out of living in Brevard County with your dog!
Most of the beaches in Brevard County prohibit dogs, but in unincorporated areas (such as just north and south of the Pineda Causeway) this restriction is rarely enforced. If you want to take your dog to the beach without fear of getting a ticket, you have two options in Brevard County:
Conova Beach Park

has a small beach area that allows dog on a leash. The park is located in Indian Harbour Beach at the end of Eau Gallie Blvd. But note that this area is very small. You won't be taking your dog on a beach walk unless you like walking in circles! 
Within the last few years, parts of Cocoa Beach have been designated as dog-friendly during certain times of the day. The area is very large – it is from south 4th street down to south 16th street. Dogs are allowed before 10am and after 5pm during daylight savings and after 4pm the remainder of the year. Dogs must be on a leash. There is public metered parking at the beach at the end of every street.  
If you want your pup to enjoy an off-leash dog beach, the closest one is on Hutchinson Island –

Walton Rocks Beach/Dog Park

. It's a bit of a drive but an easy day trip. The parking lot is well off of the main road so there is no need to worry that your dog would run off into traffic. My dog, Josie, thinks it is well worth the trip! (insert photo or video)
Nature Trails to Enjoy with Your Dog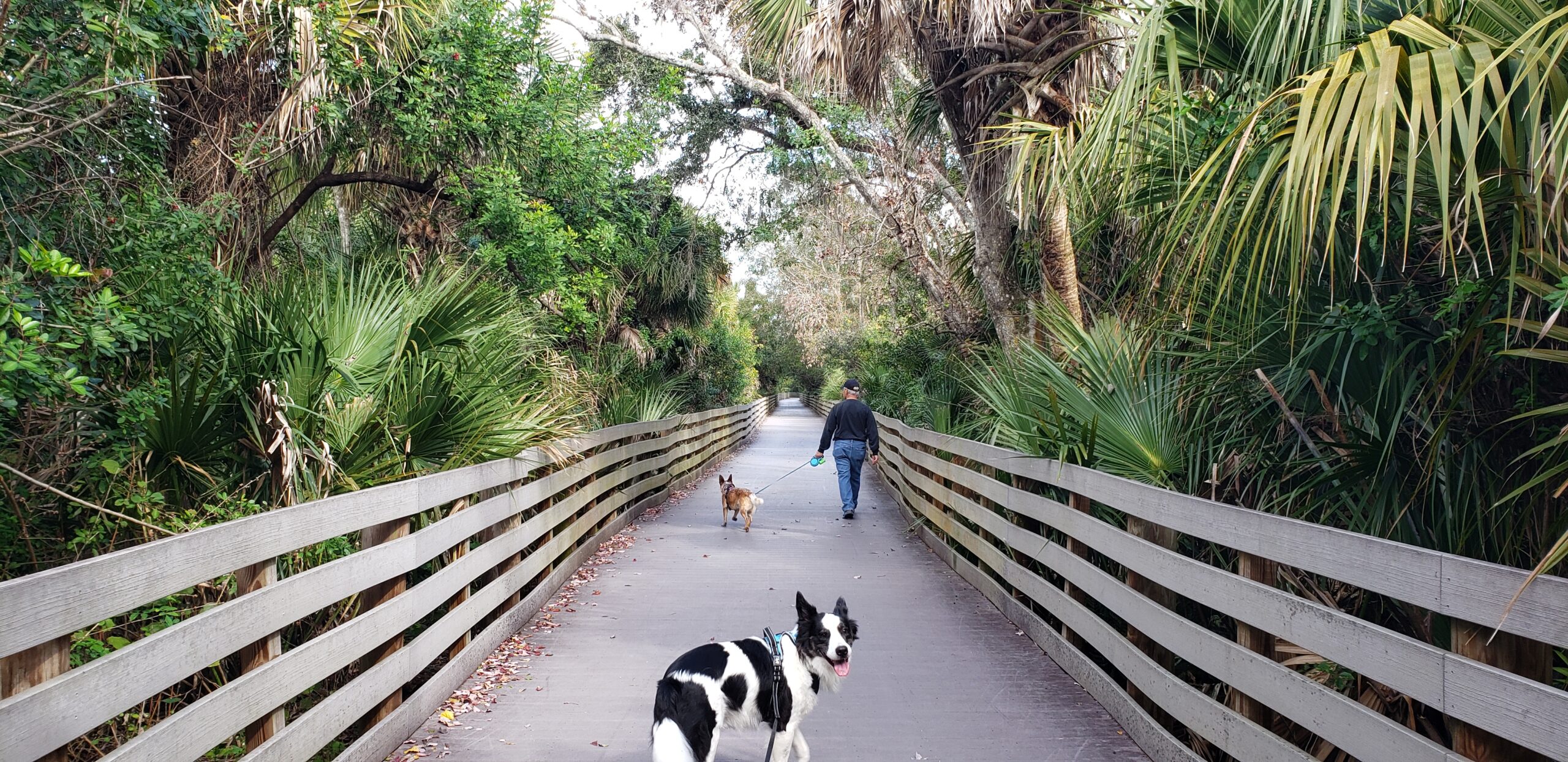 The Brevard Zoo Linear Park is a 2.9 mile trail that extends from a parking area off of Murrell road just south of the Brevard Zoo to a cul-de-sac at the end of Turtle Mound road. Much of this trail is on a raised boardwalk and leashed dogs are welcome. We recommend going on weekdays if possible; on the weekends the trail has a fair number of walkers and bicyclists going in both directions. 
Other Fun Stuff with Your Dog
Have a party on the water with your pup and up to 5 of your friends when you charter with Tiki Cruises in Merritt Island. Captain Dave will drive the boat while you enjoy the party – bring your own drinks, music and food and have the kind of party you want! There is even a BBQ grill and a hammock!
Do you love plants and gardening? If so, Rockledge Gardens it's a must! They are dog-friendly and offer frequent events and workshops.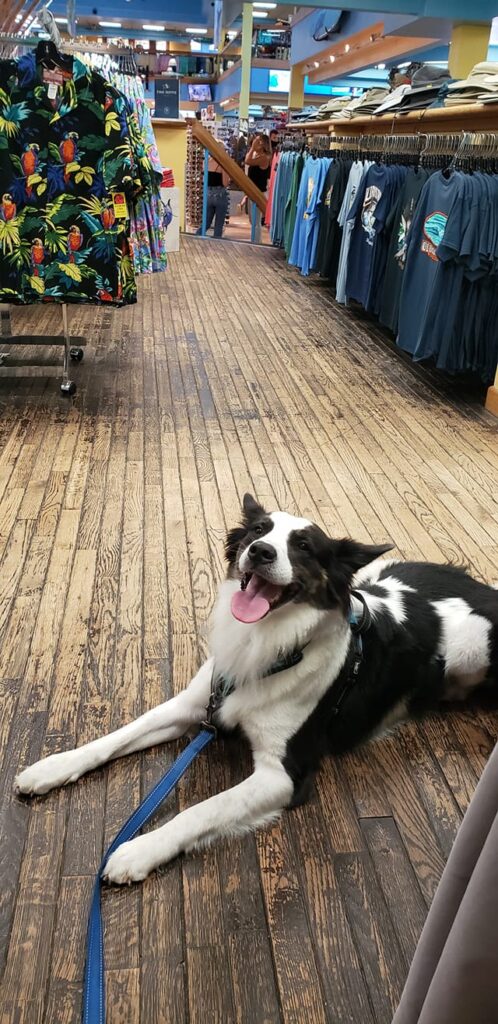 Cocoa Village is known for being dog-friendly. Stroll along the water, eat in an outdoor café and your pup will even be welcome in some of the shops (ask before entering). Consider planning your visit to coincide with one of Cocoa Village's many dog-friendly events.
Many local restaurants offer outdoor seating that is dog friendly. Below is a list of just a few of them:

Pub Americana offers a variety of interesting salads, sandwiches, burgers, appetizers, pasta, and personal pizzas (but no traditional entrees). They are open late on Friday and Saturday night and have outdoor seating in the front of the restaurant that you can enjoy with your dog.
Murdocks Southern Bistro is a local favorite offering a good selection of casual, reasonably priced meals. They open every day at 11am and often offer live music in the evening.
If you take your dog to Canova Beach Park, but sure to stop at Coasters Pub & Biergarten for a great meal and an awesome beer selection! Located in the Walmart shopping plaza on the corner of A1A and Eau Gallie Blvd – just across the street from Canova Beach Dog Park. They have a cute outdoor patio behind the restaurant that is dog friendly.
The quirky Too Cool Cafe is open for breakfast, lunch and dinner. They are open 7 days a week but they close at 3pm on Sundays. Their food is delicious and their small outdoor patio is dog friendly.
You and your dog can enjoy a view of the Indian River on Bonefish Willy's back deck. This rustic restaurant is open for lunch and dinner everyday except Monday. They have a selection of appetizers, salads and entrees. Their lunch menu is served until 5pm. Happy hour is from 2-6pm daily.
Enjoy delicious food on the Nomad Cafe's outdoor patio. They are open every day except Sunday, and they offer lunch specials Tuesday through Friday.
Enjoy locally brewed Playalinda Beer in the Brix Project's outdoor beer garden. The beer isn't the only attraction – order some great food from their interesting menu.
You and your dog can enjoy a beautiful river view while eating at Shiloh's. This family owned and operated restaurant offers an extensive menu so you are sure to find something you'll love. Shiloh's is open for dinner Tuesday through Thursday and Friday through Sunday they are open for lunch and dinner.
In the comments below, please share with us where you like to take your dogs in or near Brevard County.