The town of Cocoa Beach is located on a narrow barrier island with the Atlantic to the East, the Banana River to the West, Cape Canaveral to the north, and Orlando less than an hour drive away. Although people come from all over to visit Cocoa Beach Fl, it is much more than just a tourist town.  Read the paragraphs below for just a few of the reasons why Cocoa Beach has a tight-knit group of locals with a great quality of life, who wouldn't want to live anywhere else!
Beautiful wide beaches, a variety of restaurants, great public schools, a hopping nightlife, and friendly neighbors are just a few of the things that living in Cocoa Beach has to offer! It's not often you can find a small town with so many amenities.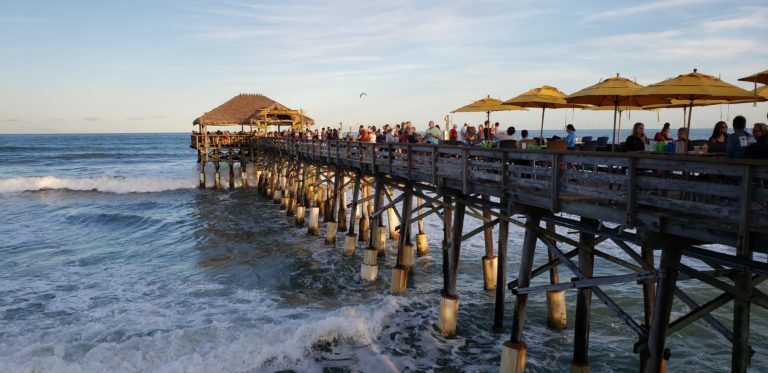 Cocoa Beach Pier at Sunset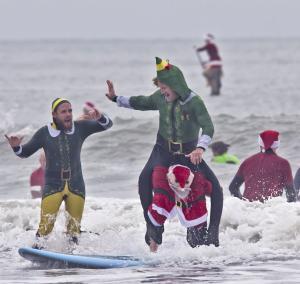 Surfing Santas, December 24th, 2019

2021 Cocoa Beach Holiday Boat Parade
There's always something unique going on in Cocoa Beach. It's not everywhere you can watch an astronaut parade, a surfing santa contest, a sea turtle release, offshore boat racing, a dog surfing championship, an airshow while wading in the ocean, and an "I Dream of Jeanie" themed marathon! And on a regular basis locals enjoy listening to a wide variety of great musicians at the many indoor and outdoor pubs and restaurants, including ones right on the beach or the Banana River. On such a narrow island watching sunrises and sunsets are just steps apart.

Easter Dog Surfing Festival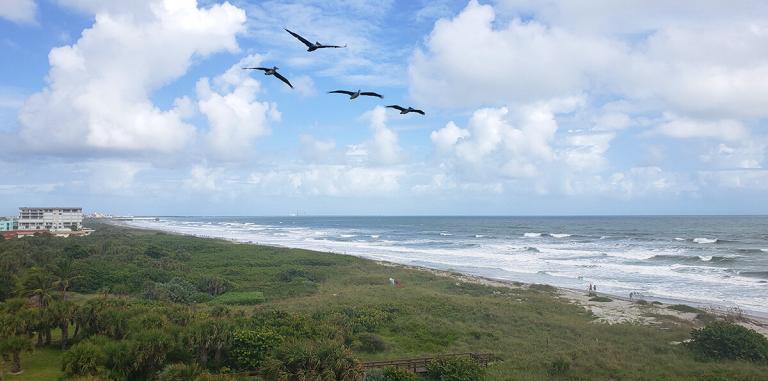 Enjoy the soaring views from your oceanfront condo!
If you don't like homeowners' associations (HOAs), Cocoa Beach neighborhoods might be appealing to you. With only a handful of exceptions, single-family homes in Cocoa Beach are not part of HOAs. This is because Cocoa Beach was primarily developed in the 1960's before HOAs were a thing. But don't worry about the neighborhoods looking trashy, the City of Cocoa Beach makes up for the lack of HOA's with comprehensive city ordinances ensuring that no one's front yard looks unsightly for long.
Despite much of the town being developed without HOAs, there are still a good variety of Cocoa Beach living options. You can live on a canal or directly on the Banana River; and boat, kayak and fish from your backyard. Or buy an oceanfront condo in Cocoa Beach and live a maintenance free lifestyle with a view of the sunrise from your balcony. South Cocoa Beach is especially narrow and offers Riverfront and Oceanfront condos with both sunrise and sunset views. And if you are looking for something more affordable, you can get a condo without a view that is still only steps to the beach.
Does this lifestyle sound good to you? If so, consider moving to Cocoa Beach now, and find out what it's like to live where other people vacation!

Kayaking the Thousand Islands of Cocoa Beach at Sunset
Search Homes and Condos for Sale in Cocoa Beach, FL
Search Cocoa Beach Condos by Category with These Buttons
Below is a List of All Cocoa Beach Condos that are Currently for Sale
Search Cocoa Beach Homes by Category with These Buttons
Below is a List of All Cocoa Beach Homes that are Currently for Sale