Note: There is more recent data than what is included in this article. Click here to be redirected to our current Covid-19 analysis.
Most people's lives have been drastically altered by the restrictions caused by Covid-19. The changes in our day-to-day routine are profound. But imagine the added uncertainty for those people who were going through, or about to go through, life transitions at the time this pandemic started. I've had quite a few people ask me how this virus is affecting the real estate market. This question is especially important for people who have their homes on the market, need to sell their home, or are in the process of buying one. The types of changes we are experiencing in real estate include the following: showings, mortgages, prequalifications/preapprovals, contract terms, closings, and supply/demand & price.
Real estate has been deemed an essential service, so in-person home showings are still legally allowed despite Florida's stay-at-home order. But it is up to sellers to decide whether or not to allow people into their home at this time. If the home is vacant, the seller will typically allow in-person showings, but if the seller occupies the home, showing restrictions are often being put in place. Many home listings now have virtual tours and in some cases, the seller is requiring that the potential buyer watch the virtual tour and provide a loan prequalification letter before scheduling an appointment. Some sellers are not allowing any in-person home showings, while other sellers will allow showings but are instructing everyone who enters to wear provided booties and to not touch anything. If you are a buyer, the first thing you need to determine is whether or not your agent is willing to do in-person showings. If your agent is not comfortable with in-person showings at this time, ask them to provide an agent that will take them. Your agent will likely be willing to pay another agent in their place, rather than risk losing you as a customer. As the buyer, if you are not comfortable viewing homes in person, then ask your agent if they will create a virtual tour for you if one isn't already provided.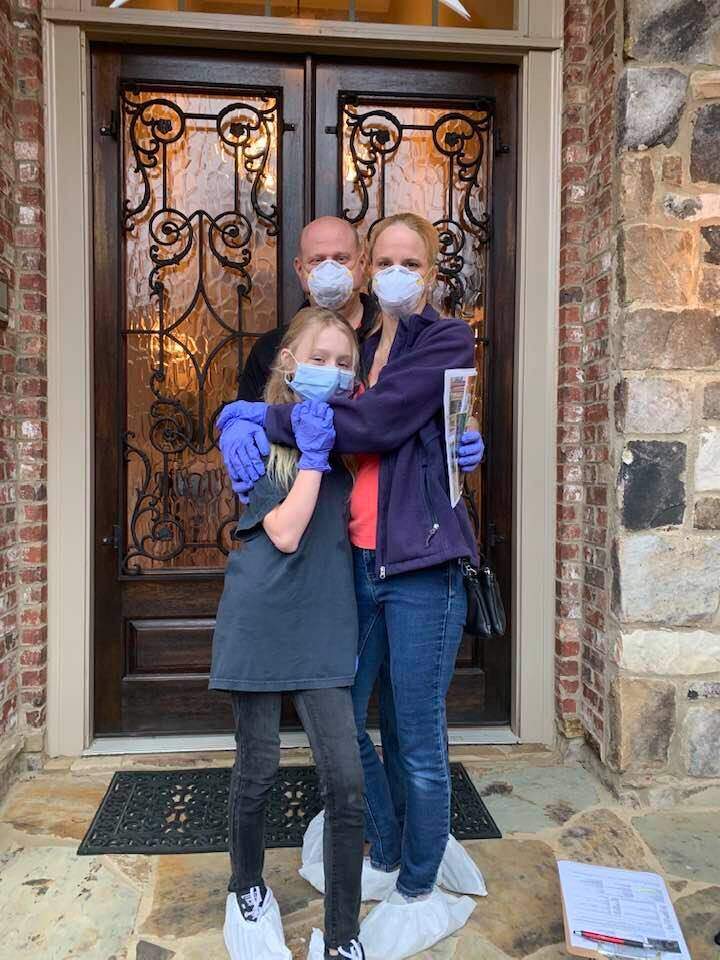 Mortgage Prequalification / Preapproval
Some lenders are being more restrictive on who they will lend to during this time. If you are a buyer who received a pre-qualification or pre-approval letter prior to Covid-19, request that the lender issue a new one. And if you are a seller under contract, have your agent check with the lender to be sure everything is on track. Also keep in mind that many people may be out of work or facing reduced pay due to this pandemic and that will affect their ability to obtain a mortgage.
For those people who were already under contract when the pandemic hit, a contract addendum was created by the Florida Realtor Association which allows the buyer and seller to agree to extend the deadlines in the contract if necessary. If you are executing a new contract during this time, be sure to leave enough time in the contract to allow for possible delays due to Covid-19.
Traditionally, closings involve the buyers and sellers coming together at the closing agent's office to sign all of the paperwork. This is no longer the norm. Individual title companies and attorney offices are coming up with their own recommended procedures. Some are still allowing in-person closings, but most of those companies are requiring that the seller and buyer sign at separate times in order to limit the number of people in the room. Other companies are requiring remote closings where a mobile notary goes to the buyers and sellers homes to obtain their signatures.
The big question for most buyers and sellers right now is how is Covid-19 affecting the supply, demand and value of homes. Unfortunately, thoroughly answering this question isn't as easy as just running a report. So, along with the help of my assistant, we have pulled and analyzed weekly data from February 23rd through April 11th for both 2020 and 2019. The results can be found in the following graphs.
The two graphs below show the trend in the number of single-family homes and condos that went under contract during this period in 2020 versus 2019. While in 2019 there were ups and downs to these numbers, in 2020 there is a distinct pattern of decline which is most pronounced for single-family homes.
The next two graphs show the trend in the number of single-family homes and condos that were newly listed on the market during Feb 23rd – April 11th in 2020 versus 2019. For both homes and condos you can see that in the end of February 2020 more homes were coming on the market than in the same period of 2019. However, this year the number of new listings started continually dropping after March 1st to the point where now in mid-April the numbers are less than half of what they were on March 1st, 2020 and less than half of what they were in this same week in April 2019.
These next graphs show the trend in the number of single-family homes and condos that were taken off the market during this period in 2020 versus 2019. As one might expect, these numbers are significantly higher in 2020 than in 2019 with the peak of withdrawals happening in late March.
Unfortunately, we cannot yet look at the effect that Covid-19 has had on actual sales prices because the sale price of a home is not public knowledge until the sale actually closes. Since it typically takes 30 to 45 days after a contract is signed for the sale to close, right now in the middle of April, we will just be getting to see the sales amounts for contracts executed in early March. Please check our Covid-19 webpage for weekly updates to the graphs and ultimately for graphs depicting sale price trends. But despite not having the actual price data, we can still make predictions on the market based on the supply and demand data we have.
Typically the way that the market works is that when supply is up and demand is down, it is good for buyers to get good deals; and conversely, when demand is up and supply is down it is good for sellers and prices typically rise. The graphs presented above show the effect Covid-19 has had on supply and demand. To summarize, the second and third sets of graphs show that the number of homes on the market (supply) is decreasing, and the first set of graphs show that the number of homes being purchased (demand) is decreasing. So what does it mean when both supply and demand are down? Well if they were both down by the same amount it would be a wash. To best determine how these decreases to supply and demand have changed the overall balance, we can look to another metric used in real estate as well as other industries – the "month's supply of inventory" which I will abbreviate here as "MSI". The MSI reflects the number of months it would take to sell off all of the current inventory homes at the current rate of sale. The formula is Total # of Active Listings divided by the # of Sales. Typically, the number of sales used in the formula is a rolling average over the last 12 months. However, given that our current circumstances are unique and ever changing, I am calculating the MSI on a weekly basis using the actual number of sales in a given week and then converting that weekly supply of inventory into a monthly number by dividing it by 4.3 (The average number of weeks in a month.).
It's OK if you didn't completely understand the previous paragraph because I'm going to give you the gist of it now. The lower the "month's supply of inventory" (MSI) number the better the market is for sellers, and the higher the MSI number the better the market is for buyers. Most people define a "sellers' market" as when the MSI is at less than 6 months and a "buyers' market" when the MSI is more than 6 months. In the last few years we have been in a strong seller's market with the MSI being at approximately 2 to 3 months.
The next two graphs depict the MSI trend for Feb 23rd to April 11th for 2020 versus 2019. Both graphs show that the MSI during this period in 2020 is increasing. The condo graph is a little difficult to interpret because of the rather large fluctuations from week to week which is caused by the relatively low number of sales. Despite this, there is still clearly an overall trend of an increase in MSI in 2020 that didn't exist in 2019. But the trend toward and higher MSI in 2020 is clearer on the single-family home graph where in the beginning of March started out with an MSI in the low 2's but now in April is over 3 and 4. These numbers depict a shift toward a buyers' market but indicate that we are still technically in a sellers' market (MSI of less than 6 months).
This shift toward more of a buyers' market is likely to slow the appreciation of home values and may even show a decrease in sales prices in some markets. Beginning around the middle of May, check our Covid-19 webpage for sales price trends and an update to the data above.